Why Galvanizing Services?
Hot-dip galvanizing (HGV) is the process of immersing fabricated and non-fabricated steel or iron into a kettle or bath of molten zinc contents. The primary objective of this process is for corrosion protection across most products that are susceptible and wildly expose to unpredictable atmosphere conditions.
Why Tamaco?
Tamaco has established a strong reputation for actively providing superior zinc galvanizing services and bespoke solutions to customers for their respective products in marine, oil & gas, refinery, construction steelworks and many other industries for more than twenty years.
The basic success story of Tamaco for galvanizing has started ever since production commenced after the inception of company in 2004 and expanded exponentially in volume and capacities till today. Together with our customers, Tamaco has transformed and evolved to becoming a market leader in the highly specialised field of galvanizing.
Spearhead with a professional team of highly trained & skilled Tamaco employees who are integral to the rapid growth of organization, their invaluable experience in galvanizing has inevitably a cornerstone for achieving optimum operation management and attingent to our quality assurance commitment.
To excel in customer service satisfaction achievement, the organization has been practicing, adopting work, safety and health measures, complying with law & regulations and obtaining all essential licences which are de facto standard operating procedure, a fundamental policy in the workplace of Tamaco.
What are the Galvanizing Processes in Tamaco?
TAMACO HOT DIP GALVANIZING (HDG) SERVICE PROCEDURES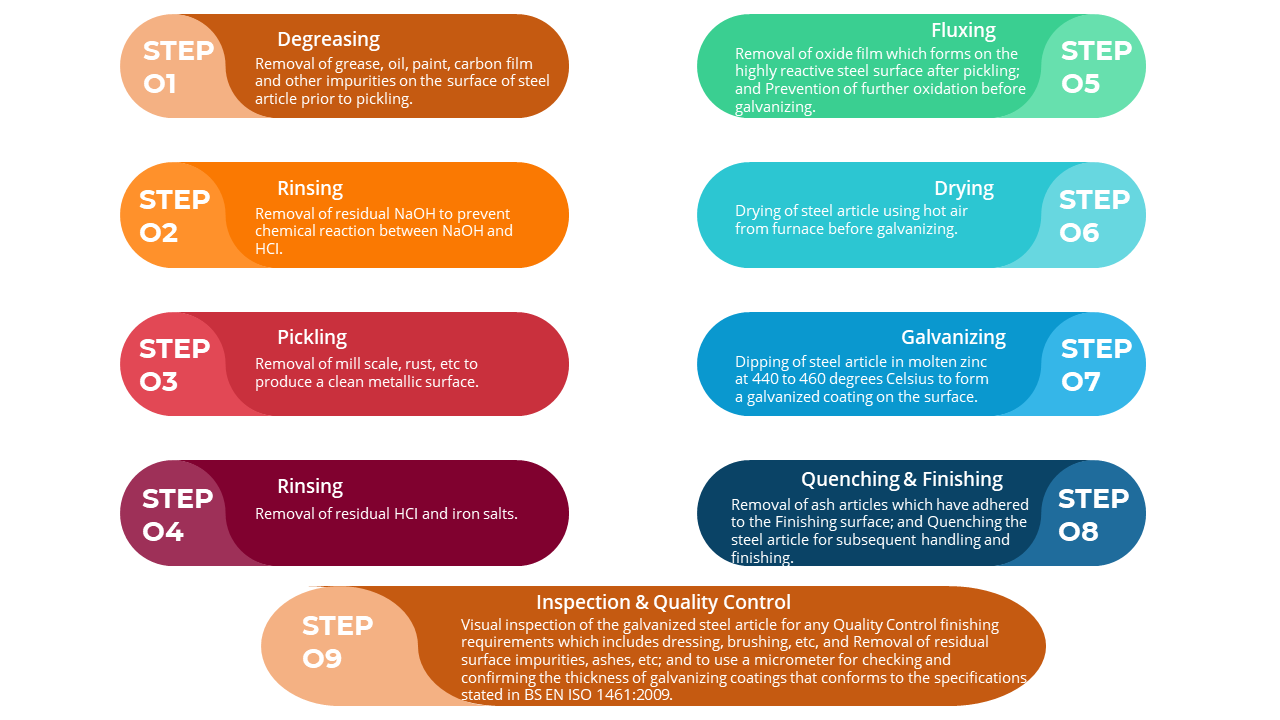 Overlapping Surfaces Process
Fabricating Hot-Dip Galvanized Reinforcing Bar
Properly Venting Handrails
Hot Dip Galvanizing vs Paint
Braced vs Unbraced Process
Shiny vs Matte Hot-Dip Galvanized Steel